Check if you qualify for Australian PR:
Take Free Migration Assessment
or
Register for Seminar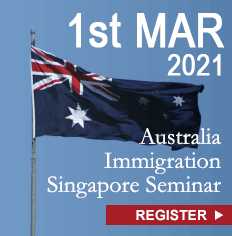 Australia Immigration Specialist
Planning to work or migrate to Australia? We can help!
Australia Immigration Specialist Pte Ltd (AIS) is a registered Australian migration agency (Migration Agent Registration Number: 0848911) based in Singapore providing assistance for Australia visa application. With a 99% success rate, you are in the right place if you're planning to work and/or apply for permanent residency in Australia.
To get started, fill up our free migration assessment online form to let our immigration consultants determine your eligibility for an Australia PR application or call us at (65) 6299 0246 for a professional consultation inquiry.
Singaporeans Visiting Australia Can Now Skip Long QueuesThursday, 27 February 2014
In-demand Jobs in Australia in 2014Tuesday, 31 December 2013
Rupert Murdoch: Australia Needs To Increase ImmigrationThursday, 11 November 2013
Tony Abbott Elected As Australia's New Prime MinisterMonday, 9 September 2013
Australia Immigration Fees To Increase From 1 September 2013Thursday, 15 August 2013
Update on the Skilled Occupation List (SOL) – 2013Tuesday, 30 July 2013
Read more news
Find out more about the current immigration situation and procedures in migrating to Australia from Singapore.
Date: 10th November 2014
Time: 7pm to 9pm
Venue: IDP Singapore, 30 Orange Grove Rd Level 4 RELC Building, Singapore 258352
More seminar details
MARA Registration
Visa Services